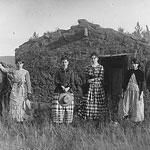 The
Friends of Homestead National Monument of America
are developing a database of homesteaders and descendants.
The Homestead Act of 1862 transferred more than 270 million acres of land, or 10% of the nation, from Federal to private ownership. The only monetary payment for each 160 acre claim was an $18 filing fee. The Act provided a robust opportunity for westward development of this country, and the needs of the homesteaders resulted in an explosion of inventions, industrial applications, and developments in agriculture, finance, art, photography, communications, transportation, medicine and much more.
Homestead National Monument of America, located in Southeast Nebraska, commemorates this Act and the far-reaching effects it had upon the landscape and people. And now the HNMA is seeking your help in locating people who filed claims under the Homestead Act. The goal is to locate and record the experiences of remaining homesteaders before the opportunity is lost.
For details, refer to the "Are You a Homesteader or Descendant?" section on the
National Park Service home page
.
Additional reading:
"
Genealogy and Homestead Records
" (PDF)
"
Daniel Freeman 1st Homesteader
"
"
Homestead Records Groundbreaking Genealogy Research
"